Do you ever wonder who your neighbor is? Who is the person we are supposed to show mercy and love to in our lives? In Luke 10, we read the story of the good Samaritan. While geographically he wasn't a neighbor and culturally he wasn't a neighbor of the man who had been robbed and beaten, he had mercy on the man. In essence, all people are our neighbors. We are to have mercy on all mankind, as Jesus would.
The product I was able to review with my kids is called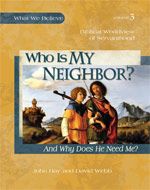 This is
the third book in the "What We Believe" series
provided by
Apologia Educational Ministries
. It is intended to help children understand what it means to be salt and light and will encourage kids to develop a Christlike servant attitude. In this way, they will begin to see that all people are their neighbors.
Along with the textbook, I received the notebooking journal and the coloring book. This book is intended for children ages 6-14. The textbook is $39.00. The journal is $24.00, and the coloring book is only $8.00.
I feel I am slightly biased because everything I have ever used from Apologia for my homeschooling has been of the highest quality. I have never come across a product from Apologia that I haven't liked. This is just another one I thoroughly enjoyed. There is so much contained in one book that it makes teaching so simple. There are many different stories and activities included in it that my kids do not get bored with it.
Each lesson is intended to take two weeks, but obviously you will go as slowly or as quickly as your students need. There are eight lessons on topics such as "Does Anyone Really Need Me?", "How Can I Make a Difference?", "What Can I Do For My Country?", and "Why Can't We All Just Get Along?"
In the front of the book is a sample lesson plan for how you can break up the lessons into 3 weeks/2 days a week. The front of the notebooking journal has lesson plans broken up for the entire book and journal so that you know which pages of the journal go with which pages of the textbook. Each student should have his/her own journal, which I find a drawback. I myself am sure not to spend $24 for each child to have his/her own, but the journals do have a lot of activities, questions, and lists of movies, books, or songs that can be used to find out more information with activities to go along with those. They are also beautifully illustrated. They are meant to be keepsakes, books to track the child's journey.
I enjoy the historical stories and the "Encounters with Jesus" sections the most. They help to make the lesson more real. My kids seem to remember stories longer than anything else.
My second favorite part of the book (simply because of who I am) is the recipes scattered throughout the book. What a fun idea!!!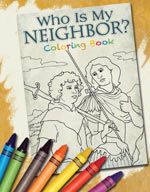 The pictures in the coloring book have titles related to things read in the textbook. They are drawn well and allow for a lot of different colors to be used. Paige has enjoyed using this. I may have to color a picture myself.
I highly recommend any of the Bible studies by Apologia Educational Ministries. They are located under the Apologia Press tab. If you are looking for a way to encourage servanthood in your kids, Who is My Neighbor? is a great choice. I look forward to working through more of this book with my kids so that they will, hopefully, eventually develop that attitude.
Apologia Educational Ministries can be reached at
1106 Meridian Plaza, Suite 220
See what other TOS reviewers are saying about this product at:
DISCLAIMER: I received this product free of charge in order to use it and provide an honest review.