Greene Bark Press is a publishing company that is family owned. It was established in 1991. They publish and sell books that are original and imaginative and that will enhance the reading process for young readers. They also sell many other types of items from other companies that match their philosophy of reading and learning. The book discussed in this informational review is
Look Left, Look Right, Look Left Again.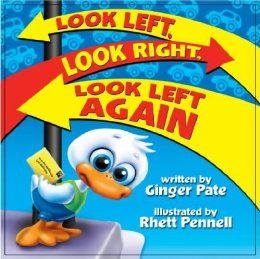 This is a small board book written by Ginger Pate that is perfect for parents who are trying to teach their youngsters to be safe when crossing the street. The story is told of Wally Waddlewater who needs to cross the street to get to the mailbox. As can be seen from the image above, this book is very colorful and simple to read. It is geared towards kids who are 3 through 8 years old. The cost is $8.50 plus shipping.
Other board books available that help teach safety and manners are Hands Are Not for Hitting, Feet Are Not for Kicking, Teeth Are Not for Biting, Germs Are Not for Sharing, Tails Are Not for Pulling, Words Are Not for Hurting, Pacifiers Are Not Forever, and Diapers Are Not Forever.
Check out their other books, games, toys, puzzles, and interactive reading CD-ROMs.