Now that I have a child entering high school, I am looking for curricula that will stretch his knowledge. He has had to read certain books for literature classes that he has had, and he really enjoys adventure books; but he has not had to read too many classics that are of a different genre that what he enjoys.
Hewitt Homeschooling Resources
has provided a number of different products for us reviewers. The item I requested and received is called, "Lightning Lit & Comp: British Literature: Early-Mid 19th Century." The selections in this curriculum include poems by William Blake, Lord Byron, and Percy Bysshe Shelly, to name a few. Books that are to be read include
Pride and Prejudice
,
Ivanhoe
,
Frankenstein
, and
Jane Eyre
. These are definitely classics but not the type of books that Jake enjoys reading. The whole way through
Pride and Prejudice
he kept saying, "Every line in this book has something to do with love." I had to laugh.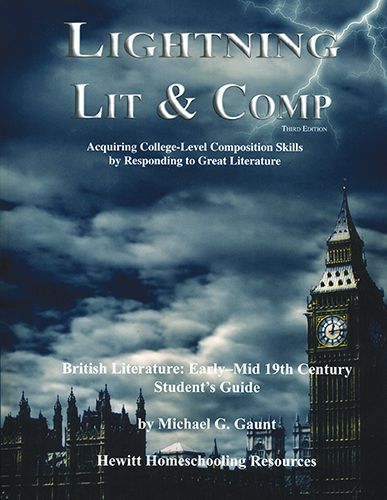 This book is set up at the beginning to help the student understand why we should read literature and how to read literature, how to read poetry, and the steps to take to improve their own writing. The lessons begin with a biography of the author and a background on the selection(s) to be read. Students are encouraged to pay attention to a few different things while they read the poems/book. The poems and the essays are included in the curriculum. The books to be read can be found at your local library, purchased on line and shipped, purchased through Nook or Kindle, or bought as part of the package through Hewitt Homeschooling.
The comprehension questions for each selection are broken up into sections. There are a lot of questions, especially for the books, so only a few chapters are to be read at a time with maybe 10-15 questions to go with the reading. After the comprehension questions, there is a literary lesson that explains things such as person, place, characterization, etc. The final part of each lesson has writing exercises. In order to get through enough of this product to review, I only had Jake do one of the writing activities for each unit. I let him choose. He enjoyed the writing assignments more than the reading assignments. I feel that the exercises are appropriate for high school students. They cause the student to think and really stretch in their comprehension of things and provide an opportunity to master writing skills.
Hewitt Homeschooling
is a very interesting company. They have a school, curricula for sale, and achievement testing. They provide basic information about homeschooling and how to get started. Satisfaction is guaranteed on curricula. They state you can return any item in new condition within 90 days for a full refund. They have curricula for arts and music, Bible and character, history and geography, language arts, manipulatives, mathematics, parental resources, science and health, thinking skills, and typing. There are hundreds of items for sale through Hewitt.
The Lightning Lit & Comp programs are intended for 7th and 8th grade (full-year courses) and high school (half-year courses). The high-school programs offered are American Lit Early to Mid 19th Century; American Lit Mid to Late 19th Century; British Lit Early to Mid Early to Mid 19th Century; British Mid to Late 19th Century; British Late 19th Century; British Medieval; American Christian; Shakespeare Comedies and Sonnets; Shakespeare Tragedies and Sonnets; World Africa and Asia; and World Latin America, Asia, and Africa.
You have the option of purchasing the pack for each program. The Early to Mid 19th Century British package includes the student guide, the teacher guide, and the four books that are to be read. The total for the package is $48.39. The student book alone is $29.95, and the teacher edition alone is $2.95 and includes the answers to the comprehension questions. It also includes a teaching schedule, teaching and grading aids, and a copy of the writing exercises and discussion questions.
I highly recommend
Hewitt Homeschooling
for your literature curriculum. Even though Jacob doesn't want to read some of the books or poems included, I know it is helping him with his comprehension of the subject and helping him to understand different literary elements. I will most likely be purchasing another program within Hewitt for him for the second semester. As an FYI, some of the books are of public domain and can be downloaded for free through Nook or Kindle.
Hewitt Homeschool can be reached at Hewitt Homeschooling Resources; PO Box 9; Washougal, WA, 98671. Their phone number is 800-348-1750 or 360-835-8708. Hours are Monday through Thursday, 8-4 PST. Their email is sales@hewitthomeschooling.com.
DISCLAIMER: I received this product free of charge so that I could use it and provide an honest review.