My daughter struggles with math. She simply doesn't like it. She thinks it is too hard. Learning multiplication has taken all year, and she still hasn't mastered it. Along came a review for a
math game for kids
, an adventure game with a horse in it. I figured if this game didn't peak her interest, nothing would. She loves horses and playing adventure video games. This program is called Math Rider.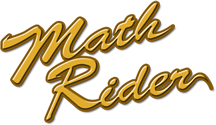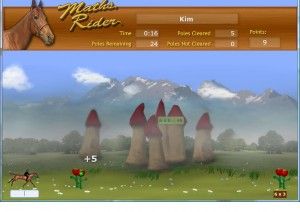 This is a screen shot of the adventure land. You are trying to work with the king to rescue his daughter. You are on a horse that jumps over hurdles. Each hurdle is a math question. If you answer the question before your horse comes to it, you get points. At the end of that particular part of the quest, you can look at a map of your progress in the imaginary land. It will show you your progress on the path. If you answer questions correctly, the horse speeds up. If it takes you more time, it will slow down. The quicker you answer, the more points you receive.
The types of questions that can be answered can be chosen by the parent. It does different levels of addition, subtraction, multiplication, and division. When my daughter began the program, she loved it. I did notice that she began to remember math facts better the more she played the game. She spent most of her time doing addition and subtraction. I wanted her to use the game to do multiplication. As soon as we started with the multiplication, she was frustrated. I told her to just listen for the answer to the ones she didn't know. When the program tells you the answer, it will give the same question a hurdle or two later. I could see that this was helping her remember her multiplication. After missing more than she got right, however, she didn't want to do it anymore. In her mind, she wasn't given enough time to figure it out.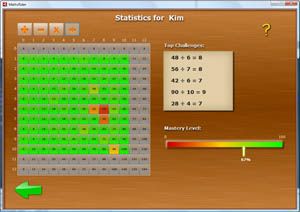 This is a picture of the statistics page for your child. It lets you know what they have mastered, where their difficulties are, what percentage of mastery they have achieved, and how much they have improved since starting.
I even used the program once or twice myself, and it does keep you on your toes with your math facts.
I like the program, and I think it is very beneficial. The only issue I have is that it does make you feel pressured as you answer the problems. Sometimes when you feel pressured you can't think quickly enough to answer or your hands hit the wrong keys.
Math Rider is an
intelligent math facts game
most appropriate for children ages 6 through 12 who at least have a grasp of addition concepts. One downloadable Math Rider program allows up to 8 students to work on the same program but not as a multiplayer game. Each student can work at his/her own level based on their knowledge. Each purchase of Math Rider also allows you to install up to 3 times, so you can put it on more than one computer in your home.
Math Rider is regularly $47 but is on sale now through February 15th for $37. You can purchase online and download for PC or Mac using PayPal, Visa, MC, and American Express. They also have a 30-day risk-free guarantee. They have a 7-day free trial accessible through their contact page.
Their contact information is:
Sharper Edge Pty Ltd
31 Hannah Street
Beecroft NSW 2119
Australia
Phone: +61 2 8005 8531
Office hours: 9am to 5pm (East Australian Time – GMT+10), Mon-Fri
DISCLAIMER: I received this product free of charge so that I might try it and provide an honest review of it.