As my son worked through his algebra 2 curriculum, he expressed his displeasure very openly. I have to admit that as we passed the halfway point in the book, the problems got hard enough that I couldn't pull from my memory banks of middle school or early high school; and I would more often than not tell him to watch the video that accompanied the curriculum in order to understand how to work a problem.
Along came the chance to review
ALEKS
.
ALEKS stands for Assessment and LEarning in Knowledge Spaces. It is a web-based program that assesses what the student knows and instructs them on what they are ready to learn. Upon getting access to ALEKS, we stopped algebra 2 and decided to review algebra 1. I haven't heard any complaints since he started except that he doesn't enjoy the assessments. When first starting out, an assessment is given to determine the knowledge of the student. Periodic assessments are then given throughout as the student masters the material to make sure they are still learning new concepts and have retained the information they have already learned. Parents receive emails as part of the master account to keep them informed of their child's progress.
ALEKS has a wide variety of math products available for K-12, higher education, independent use, and homeschool. Before signing up, you can take a tour of some different modules and watch some videos about the program. A free trial is also available. Once you sign up for it, you have a 3-hour time frame in 48 hours in which to use it.
A subscription to ALEKS can be purchased for one month for $19.95, 6 months for $99.95, or a year for $179.95. If you have more than one child in your family and are purchasing the 6-month or 12-month program, there is a significant savings for each additional child. When you purchase ALEKS, two accounts are created: a student account and a master account.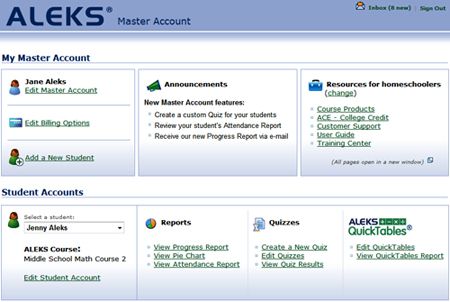 The master account allows you to create and assign quizzes and see the results, view other resources that are available through ALEKS,
reset student passwords, edit billing and subscription options, and add additional students. You can view reports of your child's progress and keep attendance records.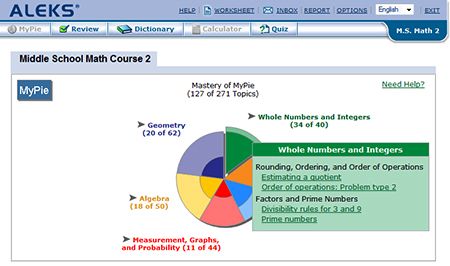 Above is a snapshot of the "MyPie," which gives the student an idea of their progress. Both of my sons love to work from MyPie. I think they feel a sense of accomplishment as they finish a piece of it. When clicking in the colored area of the pie piece, a window pops up to let them know what concepts they still need to work on. They can click one of the underlined topics which will then present problems for them to work through.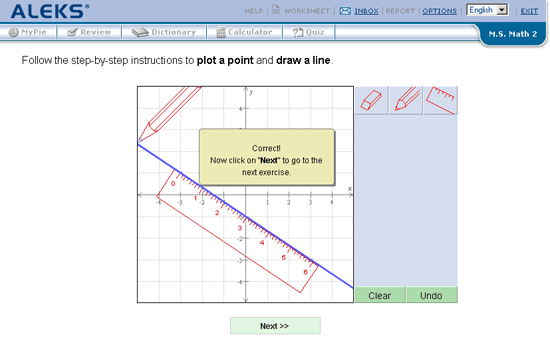 Once they have mastered the concept, more of the piece is filled in. If they understand it well from the beginning, they will usually only have to do 3 problems. If they have difficulty with a problem, they can click the "Explain" button. The program will then go to a page that details the same type of problem so that they can figure out how to do the one they were confused about. They will then receive enough practice problems to be sure they have mastered the concept, and then the piece will be filled in.
This "MyPie" page is able to be printed. When it is, the pie displays, as well as topics they are able to do, what they are ready for, and gives a history to view progress. Progress reports are also emailed on a regular basis.
ALEKS comes with training guides that explain how to use the program, how to choose the right program for your child, and supplies the answers to other FAQs.
I highly recommend ALEKS if you are searching for a different way to teach your child math, especially if they are having difficulty or are bored with the traditional textbook approach. They are able to monitor their own progress by watching their pie without feeling like you are always watching them over their shoulder. You can still follow along with the reports that are sent to you or that you print out.
It is both PC and Mac compatible and comes in Spanish and English versions. ALEKS' corporate office address is:
15460 Laguna Canyon Road
Irvine, CA 92618
Their phone is

(714) 245-7191, and their email address is

http://support.aleks.com.
DISCLAIMER: I received this product free of charge so that I could provide an honest/unbiased review.