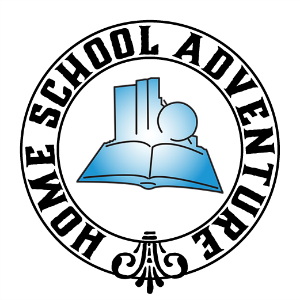 A month and a half ago, we received the digital version of Philosophy Adventure, by Stacy Farrell, from Home School Adventure Co. A great deal of time and effort was put into producing this curriculum as can be seen by the wealth of information contained within it, as well as the numerous activities that have been created for the student. Because Philosophy Adventure not only teaches about the philosophers but also teaches writing skills, critical thinking skills, and speaking skills, I wanted to do this review with my high schooler.
The philosophers discussed in this curriculum are not your typical such as Aristotle, Plato, and Socrates, although they are mentioned. The philosophers we learned about were Thales, Pythagoras, Xenophanes, Heraclitus, Parmenides, Empedocles, Protagoras, and Democritus. Some of the things learned about the philosophers were the title they were given such as Thales being called the "Father of Western Philosophy," a famous quote ascribed to them, and then as much of their history as could be found through various sources.
Included in the completely digital version, which sells for $39.95, is a reader that contains the stories, writing lessons, critical thinking lessons, public speaking lessons, geography of the region in which they lived, exposure to primary sources, and a biblical worldview of the philosopher and/or his teaching; a student workbook with questions, maps, quizzes, and tests; and a teacher resource book with answer keys to tests and maps, memory cards, and a timeline. As you can see from the books below, it is a beautiful curriculum; it is full of paintings, photos, and other images to help enhance learning.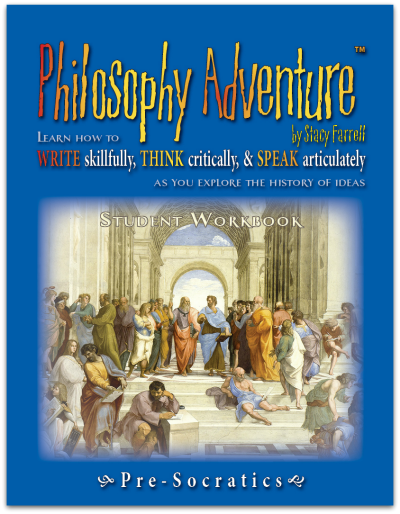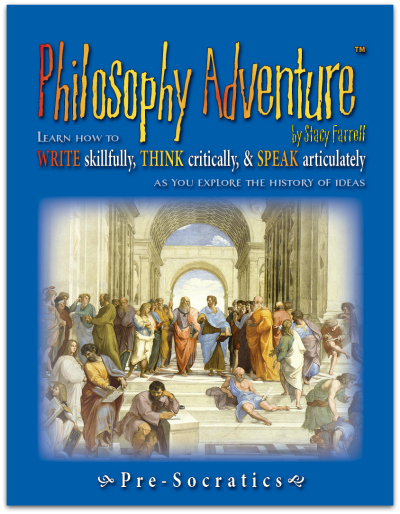 I myself am a book person. I personally prefer a tangible product to a digital one. I am able to organize my thoughts and schedule better if I can have everything laid out in front of me. For this reason, I wish I would have had the reader, at the very least, in print format. Of course, the more print items you order, the greater the cost. To have the reader and student workbook in print, the cost is $89.95. The teacher's resource book comes on a CD. For $69.95, you can have the reader in print and the student workbook and teacher's resources on CD. If you want everything on a CD, that would be $49.95. Until May 15, a discount has been extended to anybody who orders the download version. Simply use the "Crew-10" code at checkout to save 10%.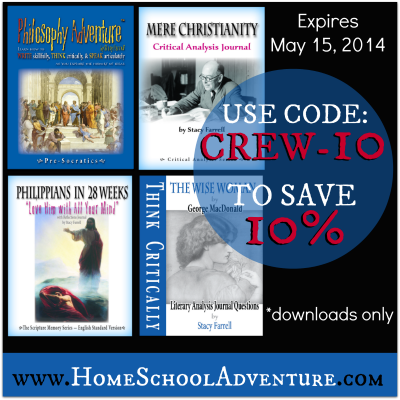 Philosophy Adventure
is geared towards students in 6th through 12th grade. My son with whom I reviewed this product is in 10th grade. I think we were both overwhelmed by the amount of work. This curriculum could easily count as a high school credit if he did a substantial amount of the activities included in it. (There is a section in the reader that discusses how to allocate credit.)
When I asked my son what his opinion of the product was, he said that there were some things that he liked about it, such as learning about the different philosophers, but he didn't like that there were so many activities to go along with each philosopher. I think that if we had spread the work out a bit more neither of us would have felt so overwhelmed. A suggested five-day schedule is provided in the reader. It would be a good idea to follow this, spreading things out a bit further if needed.
My suggestion to anyone who might purchase this curriculum is to read through the table of contents in each book and decide which activities you will require your student to do and print those things out. It is not necessary to print the entire reader (if you have the CD or download version), but you should print the student pages, quizzes, maps, and tests. If you want to use the memory cards and timeline, have those ready before you begin using this curriculum.
Philosophy Adventure can be used in conjunction with Philippians in 28 Weeks and The Wise Woman, which are two other resources that are available from Home School Adventure Co. The presentation of a biblical worldview alongside each of these philosophers is invaluable, as many of their ideas did not line up with Scripture. It is almost as if it provides a safety net for learning about these different ideas because God's Word is the standard against which all things are judged.
I also like that contemporaries of each of the philosophers are listed in the reader on the first page of each new person. These contemporaries include people from the Bible, like Daniel and Ezekiel. It helps to keep things in perspective.
I was grateful that Stacy Farrell provided pronunciation after names and terms that may have been new and definitions and explanation of other terms. She was very thorough in writing this curriculum, making sure that everything could be understood by the student.
The writing assignments build on one another as students begin with a rough draft and end up with a polished copy that can then be reviewed by peers for feedback. We did not get to the polished copy stage or the peer review stage with my son's work, but he was able to learn some techniques through the assignments such as adding pauses, alliteration, supporting conclusions, etc.
I have mixed feelings about this curriculum. It is incredible! It is put together very well and teaches a lot of information that my son has never learned anywhere else. Stacy Farrell writes in an engaging way so as not to bore the reader. There are so many great things about this curriculum. Perhaps my biggest complaint is simply that I didn't have enough time to use it the way it should be used. If I had had the print version of the reader and could have created a schedule for a year or even a half of a year, we would have been less overwhelmed. I may revisit this curriculum at the beginning of my son's junior year. Be sure to click the "Schoolhouse Review Crew" graphic below to read more reviews.
Visit Home School Adventure Co on these social media outlets: