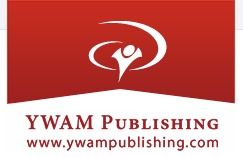 Over the years, I have become very familiar with the story of Jim Elliot and the other missionaries who were killed in Ecuador in the 1950s. I have also used other books from the Christian Heroes: Then and Now series by YWAM Publishing and have always loved them. They are always written well and share the stories so clearly and with such detail that you almost feel as if you are present.
We had the opportunity to review

Jim Elliot: One Great Purpose

and the corresponding study guide,

Jim Elliot: Unit Study Curriculum Guide.

The book is geared towards children ages 10 and older and shares the story of Jim Elliott from before he landed in Ecuador to his death in the jungle. The epilogue describes the work of God through Betty Elliot, Jim's wife, and Rachel Saint, Nate's sister, with the Auca's after the missionaries' deaths.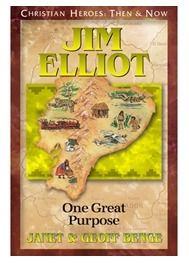 Jim Elliot: One Great Purpose
is a
192-page paperback book that sells for $6.99, but it is also available in Kindle and Nook editions. I received the Kindle version and, so, would sit on the couch with my kids and read them a chapter at a time. The story was full of details about Jim's life. I myself especially enjoyed the chapters that talked about Jim and Elizabeth's courtship. They both loved the Lord so much, and it is evident throughout the story. I am glad that there have been books written about Christian men and women who sacrificed to share the love of Christ with those who might not otherwise hear and that I have the chance to read those books to and with my children.
The curriculum guide is 62 pages and sells for
$7.49. It is intended to be used to enhance the learning that comes from reading the book. It contains Bible verses to memorize and chapter questions (with answers provided in the back of the book). These two sections were the easiest for us. We often look for verses to memorize, and there are just four included in the study guide. They are each given in KJV and NIV. We use the NIV as it is a bit easier for the kids to memorize. There are only four questions for each chapter. The first is a vocabulary question. The second is a question about some fact from the chapter. The third question measures whether or not the student comprehends what they have read. Finally, the last question asks them to form an opinion about something related to the reading. The chapter which talked about Jim's parents raising him to be independent struck a chord with my kids. They tried to plead their own case.
We did not do anything with the display corner which encourages the kids to set up a table in a corner that displays items about Ecuador. One of the items that is suggested is a map of Ecuador. This can easily be completed by using the map that is included in the study guide. Other items suggested are examples of Spanish writing, Ecuadoran food like bananas and cocoa, and photographs and articles about Ecuador. We could have done the map and probably put some bananas on the table, but that would not have done it justice.
Essay questions are provided, as well as creative writing ideas. I was not impressed with some of the creative writing ideas. One was to write a song about Jim and Betty. One was to write a poem about Jim for his funeral. Some of the hands-on projects are simple like making a timeline. This one is easy to do after reading each chapter. There are some projects that my kids like such as making a poster advertising Jim as a guest and making an acrostic poem from Jim Elliot's name. I was not willing to make a papier-mache topographical map of Ecuador, though. The good thing about the curriculum guide is that it suits kids of all ages. Some projects are too simple for junior high or high school but are just right for elementary kids, and some are perfect for the high-school level but are too hard for the younger kids. It provides a variety of activities for all ages.
There is a chapter about planning field trips and getting the most out of them. It includes several ideas for field trips that could tie into the story. The social studies chapter has a lot of map work. I love geography, and I am always happy when my kids are challenged to identify places on a map. This chapter also includes terms like gulf, basin, and tropical storm that the kids can look up and learn. Many of these my kids were already familiar with. The last chapter is entitled, "Culminating Event." This is the end of the unit study. Some ideas given are to prepare and serve regional food, play traditional music, present poems or reports the kids have written, display art work, and play traditional Ecuadoran games.
YWAM has included in the study guide a list of other books that were written about the people and events surrounding these five missionaries who were killed in Ecuador.
I highly recommend both the book and study guide. The book is well written and sensitive to the events surrounding the lives that were taken. The study guide provides many opportunities for further learning for students of all ages. There will most likely be something all kids will find enjoyable between its pages.