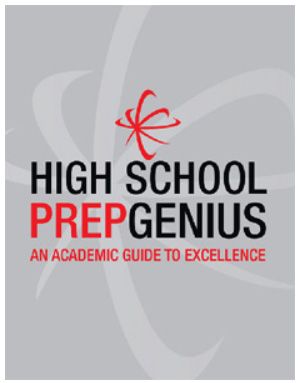 College Prep Genius is a company devoted to helping high school students succeed in their future. Jean Burk, a homeschooling mom, teaches students how to prepare for college. One step in this approach is scoring well on the standardized exams, which can earn giant scholarships. Her own children received full scholarships to college.
High School Prep Genius is a broader-scope preparation guide to college. It begins with students in 7th and 8th grade. Ms. Burk presents information for every stage of junior high and high school that will make the path to college easier, by being sure that important tasks are taken care of as soon as possible and not at the very end of 12th grade.
For only $29.95, High School Prep Genius is an extremely valuable tool for the college-minded student. The first chapters also make it a valuable tool for those who want personal success, not just those going to college. Ms. Burk discusses personal development, developing your interests, figuring out what your beliefs are, gaining financial independence, and building a strong support system. These ideas are good for anybody, and she presents them in a very professional and caring way. It seemed a bit strange to me, in a book about preparing for college, to have a chapter on eating correctly and getting enough iron and calcium. I suppose, though, a student who reads this and attends college will have in the back of their mind somewhere that they need to eat healthy to succeed and do well in school. They will, hopefully, remember this and eat well.
The introduction to this 440-page book which is written for both the student and the parent contains a timeline from 7th through 12th grade. It instructs the student to create a College and Career Notebook to keep track of the important information like grades, activities, awards, information about colleges, etc.
Jake spent one afternoon making 14 tables to place in his notebook.
When I asked Jake what he thought about this book, he said, "It is very informative. It is full of great tips on what to do in high school to prepare for college. It also gets you ready for what you are going to face in college."
I like that this book is written to both the student and the parent. Each chapter ends with a few pages that are a "Guide for Parents." This book helps the student to think about his/her own life and the steps they will need to take and the responsibility that should be theirs in their future. It seems like Jake has more of an understanding now about the path he needs to take through the res
t of high school. It certainly takes some pressure off of me as his parent to be sure he is doing what he needs to do when he is aware of what he needs to do and takes ownership of it.
Some of the other chapters in this book are:
Academic Development
Effective Studying
Tests and Papers
Getting Organized
High School Mechanics
Going Beyond the Basics
Future Development
Choosing a School
Standardized Test Prep
College Applications
Paying for School
College Essentials
There are appendices which include:
How to Build a Homeschool Transcript
Talent Searches
Great Books to Get You Started
Reduce Test Anxiety Through Relaxation Techniques
Admissions Terminology
There are special instructions for homeschooling families in various chapters.
The "Going Beyond the Basics" chapter discusses getting involved in other activities besides basic academics. It encourages involvement in classes at community colleges, community centers, private lessons (including music), internship opportunities, honors program classes, AP courses, dual enrollment, International Baccalaureate program courses, volunteering, community service, and summer jobs.
Even though this review is about the High School Prep Genius book, I would encourage you to take a look at the College Prep Genius website. There is information there about classes to help prepare for the SAT, both live and DVD. There is a comprehensive SAT prep collection that includes DVDs, workbooks, textbooks, vocabulary books, etc.
Take an opportunity to read some of the testimonials as well. They are amazing!
I look forward to having Jake finish reading this book and then having Nate, who is finishing up 7th grade, begin reading the book and taking ownership of his own school career so that he'll be ahead of the game when it comes to entering college.