Supercharged Science is a remarkable online science program created by Aurora Lipper, a highly educated scientist who wanted to put together a program to help kids learn science in a fun way. The program includes thousands of experiments, teleclasses, exercises, and text reading. It is called
e-Science
.
If you want your child to truly enjoy science and understand how it applies to everyday life (like baking bread in the unit on chemistry), you should give this program a try.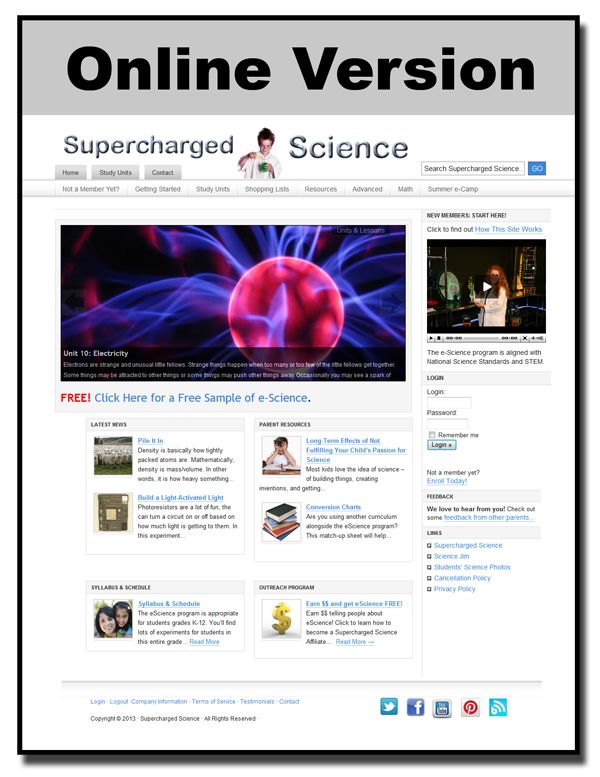 There are currently 19 active science topics and one coming soon. Students can learn about mechanics, motion, matter, energy, sound, astrophysics, chemistry, light, electricity, magnetism, thermodynamics, electronics, life science, and biology. There are also "chapters" on the scientific method, science fair projects, mathematics, parent resources, and science e-camp.



After choosing a topic, there is an overview of the chapter and a link to a teleclass. These teleclasses are a lot of fun. We participated in a few of these where the kids sat at the table with the computer so they could watch videos as they listened to Aurora and performed the experiment right along with her. I remember doing an experiment where the kids made glow-in-the-dark slime using a highlighter. Aurora creates experiments I would never think of and that are fun for the kids. Most of the supplies needed are objects you'll find around the house or the grocery store. Some experiments require special items, but these items will be used in other units so that you can get your money's worth, but you don't need to buy any specialty items if you choose not to do those experiments. The choice is yours. In the unit on matter, one of the experiments is making moon sand. No need to spend a ton of money on Moon Sand at the toy store; a couple of household items and regular sand and you've got your own inexpensive moon sand. There is also an experiment for making rock candy crystals. I appreciate as well the way Aurora keeps safety in mind all the time.



In the upper right corner of the unit page, there is a table of contents. Clicking on "lesson plans" will bring up a PDF that lets the user know which grade the unit is geared towards, the materials which are required for the experiments (broken down by experiment), the objectives of the unit, vocabulary, reading, experiments, and exercises. Clicking on each individual lesson brings up a video. The reading for each individual lesson can be done directly from the website or printed out. Additional reading and exercises for students in grades 9-12 are also included, if this is the subscription you have chosen. These additional pages are amazing to just peruse. I am amazed by the wealth of knowledge within the pages. Aurora is constantly adding to the program to make it better and better.



The K-8 science program is $37 per month. The K-12 program is $57 per month. There is a 30-day money back guarantee. Make sure you sign up for the free trial so that you can get a feel for the type of science education your child will be getting and how much fun they will have doing the experiments. We used this program years ago and still share experiments that we did with people to this day, especially the ones where we made plasma in our microwave and microwaved Ivory soap. So cool!





E-Science can be used as a stand alone science curriculum or as a supplement to other science curricula. Conversion charts are supplied that help you to know which lessons in the e-Science program correspond to lessons in other science curricula. Some of the other curricula for which conversion charts are available are Apologia, Bob Jones, Alpha Omega, Christian Kids Explore Creation, and Saxon Physics.





In my estimation, this is one of the best science programs available. Aurora Lipper is passionate about science and about your kids learning so that they'll remember what they've studied. She is always available to answer any questions that you may have and has gone above and beyond in terms of making the website user friendly. There are not many companies out there today that display the same level of commitment and integrity.