Leadership Garden Legacy is a company owned by Debra and Terry Slover. Debra has a unique story which she honestly shares to help empower today's youth to realize their leadership potential. She does this in a very simple way - comparing a real garden to a leadership garden - in her book, Growing My Leadership Garden.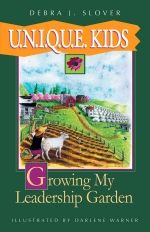 There are many different products offered by this company. We had the opportunity to review all of the products in the Family Empowerment Tool Kit. The following four products are geared towards kids 5-12 - U.N.I.Q.U.E. Kids: Growing My Leadership Garden, The Leadership Garden Guidebook, U.N.I.Q.U.E. Kids: Growing My Leadership Garden Activity Guide, the MP3 audio book download of Growing My Leadership Garden. The U.N.I.Q.U.E.: Growing the Leader Within, the MP3 audio download of the book, and The Leadership Garden Guidebook: Cultivating Organic Experiences, actions, and results that will empower you and those around you paperback workbook are geared towards kids 13+ through adults. (U.N.I.Q.U.E. stands for Understanding, Nurturing, Inventive, Quality, Unstoppable, Expression.)
I read through Growing My Leadership Garden with my 7th and 5th graders (boy and girl). I was afraid it was going to be a story they'd be too old for, but I was mistaken. It is such a simple language that my 7th grade son totally understood the deep meaning of what was being discussed even though it was in the setting of talking animals. The steps to developing leader qualities are explained metaphorically through the idea of a garden. The negative attitudes and thoughts and bad behaviors are weeds that need to be pulled. The positive attitudes and correct responses are the plants we want to tend to and cultivate. As we'd read, Nate would have epiphanies, "Oh, so I should..." He struggles with "weeds" in his life, so this gave him a different perspective. I wasn't expecting this book to have as much of an impact on him as it did.
Some of it seemed a bit strange as I read through it. The conversations the animals would have aren't the typical type you'd find in animals-talking-to-each-other books. They used words with very deep meaning you wouldn't expect animals to use, if they could talk. There was one thing that seemed a bit out of place since there didn't seem to be much mention of environmentalism throughout the book. In chapter 4, there is a point when they talk about protecting bushes and applying an eco-friendly fungicide. That was probably the thing I disliked most about the book.
The adult version, Growing the Leader Within, seemed to be just like the kid book when I first started reading it, but in each chapter there is a lesson that speaks to the adult. Debra includes some of her own life experiences. She is open and honest. I could relate to a lot of what she was saying because of my own life experiences. I played the victim for a very long time and developed quite a negative attitude about myself, some of which I am still working to get rid of.
The Leadership Garden Guidebook is a great resource. There is a lot of beneficial reading in this book that isn't in the Growing My Leadership Garden book. There are questions to answer and the space in which to answer. It was helpful for my son to be able to get his thoughts down on paper. I don't recall that he ever complained about doing the work in the book. It would be helpful to have a book for each of your children who is going through the program. I had my daughter answer her questions in a notebook of her own.
Each of the products are available separately and in different forms, as well as being available as a bundle as mentioned above. They can be found in the Empowerment Store.
U.N.I.Q.U.E. Kids: Growing My Leadership Garden
audio book MP3 download ... $8.95
audio book on 2 CDs ... $18.95
U.N.I.Q.U.E. Kids: Growing My Leadership Garden Activity Guide & Journal
U.N.I.Q.U.E.: Growing the Leader Within
hard cover collector edition ... $26.95
audio book MP3 ... $24.95
audio book MP3 download ... $14.95
The Leadership Garden Guidebook
Family Empowerment Took Kit ... $76.25
Adult Empowerment Took Kit ... $47.57
Kid's Empowerment Tool Kit ... $33.17
If interested, you can become a lifetime member for $30.00. The benefits of membership are free MP3 download of U.N.I.Q.U.E.: Growing the Leader Within, 11% discount on all products and services, your own profile page to share stories and network, among other things.
Leadership Garden Legacy is offering the TOS Community a "Spring Special Discount" of 20% on all of their Empowerment Tools, which is in addition to the already discounted Tool Kit bundles. Simply enter the code - TOS-SS20D - upon checkout. This offer expires on May 31, 2013.