I had the opportunity to use this product all by myself, and I love it! I know it probably sounds strange that I love learning about taxes, but since I do our personal taxes every year I was eager for this review so that I'd know without a doubt that I was doing them right and would hopefully get some tips to save even more money in the future.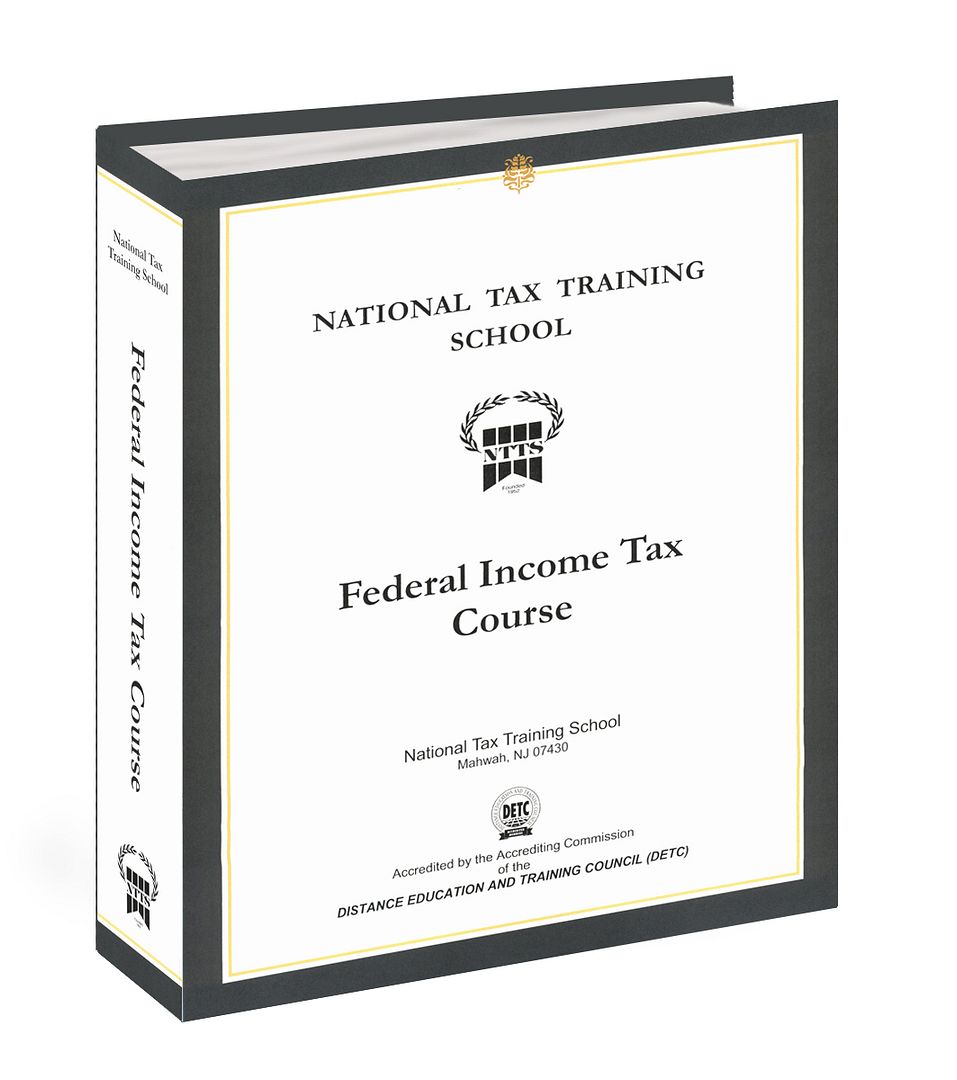 National Tax Training School
offers a number of different products. I am currently enrolled in
Federal Income Tax Course
. They also offer a Higher Course in Federal Taxation, a California Tax Preparer Course, and a Federal tax refresher course for continuing education. The Federal Income Tax Course is most appropriate for individuals who want to learn how to prepare tax returns for individuals and small businesses, and it requires no previous experience in the tax field. This is also good information for those who want to know how to do their own personal taxes correctly.
The course has
two enrollment options
. Both options include a 20-lesson course that comes with a manual which has practice problems and examinations, a grading service, practical case studies, student guidance, reference books, a book on how to build and operate a successful tax practice, a graduation certificate, and postgraduate services. The first option includes four years of postgraduate support for $795 for payment in full upon registration. There are two additional payment plans under this option that allow for installment payments. The total amount paid will be more than if paid all at once. With the installment plans, only a certain amount of lessons can be completed before the next payment is made.
The second option includes two years of postgraduate support for $495 paid in full upon registration. The other payment plan under this option allows for payment in three installments; six lessons can be completed before each succeeding installment is paid. Those currently serving in the military may be eligible for reimbursement up to 75% tuition under DANTES.
The initial product the user receives (the binder shown above) comes with 17 lessons. Each lesson requires approximately eight hours of study. Once these lessons are completed and the tests are sent in, the last 3 lessons, the tax practice book, a guide to the current year's tax law, final exam, and application for certificate of graduation, are mailed to the student. I received these things early so that I might include them in my review. I felt like I was opening a Christmas present. I can't wait until I'm ready to use these additional items and put into practice all of the things I've learned.
National Tax Training School allows you to complete the course in as little as eight weeks, but you can take as much as a year. It is all at your own pace. You can file for 6-month extensions for $50, if you need more time.
I have enjoyed the course so far. I just finished lesson six, and I have learned a great deal already. The one thing that really excites me is the idea of one day being able to have a small business of my own preparing taxes for other people. I don't know if that is what God has in store for me, but this course is giving me the knowledge and the opportunity that I've never had before. I feel good every time I sit down to take a test, knowing that I'm one step closer to accomplishing this goal in my life. Once I've successfully completed the program, I'll be able to take the IRS Registered Tax Preparer Exam. I'll have to let you know in a future blog how that turns out.
The lessons include many examples to clarify the text. Real life types of examples are given to explain concepts. This is extremely helpful to me. Sometimes I read through the idea being taught and don't completely understand it. When I read the example, the light bulb goes on in my head. Each lesson has practice problems at the end for review before you take the test. I got most of the answers right for each of the reviews for the first five lessons, but when I got to lesson six the concepts were a bit tougher for me to grasp. I didn't get enough right answers for my liking. I wished I had had more problems to practice.
Each test that is taken is to be sent in using the envelopes they provide for each test (you need to supply the stamp), and the teachers with National Tax Training School grade your test and mail it back to you within the week. The school was on a break when I sent my first tests in, so it took a couple of weeks to get them back; but I have since received feedback on each test I have sent. An answer key is sent back with each test to explain the answers and to tell you where to find the answers in the text.
This course is very professional, easy to understand, and the instructors are available to answer any questions you may have. They want to be sure you enjoy the course and are getting everything out of it that you can. The correspondence I've had with one of the teachers has been very helpful and friendly.
National Tax Training School has been training tax professionals since 1952, and they are recognized by the CFP, nationally accredited by the DETC, an approved CE provider, and an accredited business through the BBB as seen below.



Please visit the
Homeschool Crew
if you are interested in reading what others on the Crew have said about National Tax Training School's Federal Income Tax Course.
If you have questions for National Tax Training School, their contact information is:
67 Ramapo Valley Road, Suite 102
Mahwah, NJ 07430
(800)914-8138
info@nattax.com
DISCLAIMER: I received this product free of charge in order to provide an unbiased, honest review.