I was blessed, once again, to sample products from BeeYouTiful so that I may pass along my thoughts to you. They were the Hair Shine Leave-in Conditioner, the Laveshmint Hydrating Toner, the Laveshmint Daily Moisturizer, and the Vanilla Dream Body Butter.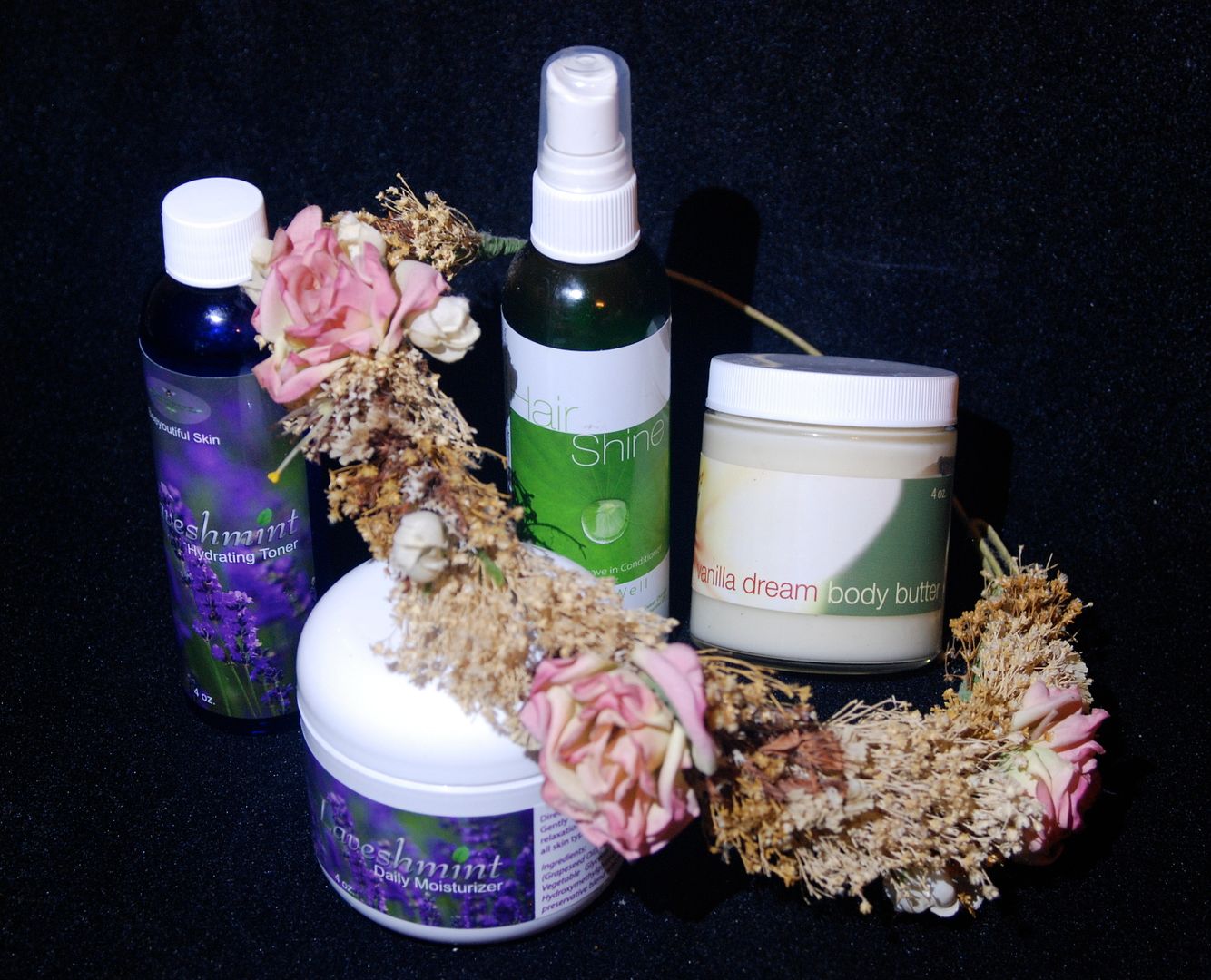 The four-ounce spray bottle (mailed sealed with a sprayer included) of Hair Shine is almost completely gone. My daughter and I both used it. It is made from organic aloe vera concentrate, distilled water, sweet orange essential oil, lavender essential oil, and rosemary essential oil. After getting out of the shower, I sprayed it on my wet hair. The spray made my hair feel soft and helped get rid of knots. It was useful for scrunching my hair because I don't really like the straight look. It smelled very good, but you need to be sure to shake it up before you use it or it smells a little weird. I think it's just because of all the different essential oils. It sells for $15.00 for one. BeeYouTiful offers discounts if you buy more than one. This is worth considering since it would probably be a frequently used product. Since everything is all natural, I felt confident that it was only going to benefit the health of my hair and not harm it in any way.
The next product I used was the Laveshmint Hydrating Toner. I was excited about this one since I moved to Florida in June and am exposed to more sun (on purpose), and it is "specially formulated to bring cool relief to sun-burned skin!" I am pretty careful with my sunscreen use, but there was one day I did get burned. Let me tell you, this toner works! It instantly relieved my sunburn and left my skin feeling very cool. This product also comes in a four-ounce spray bottle
(mailed sealed with a sprayer included) and costs $14.00. Buy as many as 12 at a time and pay only $11.20 each. This product has lasted a while for me. I haven't used it after every shower. When I have, I have only used it on my face and neck as is directed. The Laveshmint works to restore pH balance, close pores, and gets your skin ready for moisturizing (Laveshmint Daily Moisturizer would be one choice). The toner is made with certified organic aloe vera, purified water, lavender essential oil, peppermint essential oil, 0.01% potassium sorbate, citric acid, and sodium benzoate (food grade preservative). Be sure to shake this product as well before you use it. It smells wonderful all the time and leaves my skin feeling cool (even when not burned).
After using the toner, I sometimes used the Laveshmint Daily Moisturizer. It has a wonderful scent and looks like mousse. There is a long list of ingredients, all of which are safe, including distilled water, coconut oil, aloe, grapeseed oil, lavender and peppermint essential oils, a safe preservative blend free of parabens and formaldehyde, and so on. The container is four ounces and lasts a long time (at least for me) because a lot is not needed at any one time. It is to be used on the face and neck after the toner. Both Laveshmint products are safe for all skin types. The moisturizer works a lot like the toner in keeping my skin cool and feeling fresh. This sells for $12.00 per container.
The final product I was able to review was a four-ounce glass jar of Vanilla Dream Body Butter. It sells for $15.00 and is made with shea butter; vanilla infused oils of coconut, olive, and grape seed; grapefruit seed extract; essential oil of Ylang Ylang, and Vanilla Plantifolia. When I used this, it kept my skin moist for hours and hours, and it smells SOOOOO good!!!!!! For me, it can almost serve the purpose of aromatherapy.
I don't normally use a lot of skin-care products, but these BeeYouTiful products smell so good and make me feel so good, that it is very easy to get into the habit of using them. I don't mind leaving them sitting out either because the packaging is so pretty.
BeeYouTiful is a company that states on their values' page they are believers in Jesus Christ. They aim to treat everyone with respect according to their belief system. They treat others the way they want to be treated.
One of the things that I like about BeeYouTiful is that you can earn points toward future purchases in a number of different ways. If you buy products, you earn one point for every $1.00 spent. You can earn 100 points per review. You can like them on Facebook, have a birthday, vote in a weekly poll, email a friend a product suggestion, etc. You can then use your Bee Points to pay for part or all of a product. You can just use them as you have them. Each point is worth one cent. You can even transfer your points to a friend who is also in their system, if you want, say, for a birthday or a Christmas present. I haven't used this points system yet as I've only reviewed free products, but I intend to start purchasing from them. They have so many different types of products, and all are natural and safe.
Check BeeYouTiful out. You can search by a product or a health concern. They have a SALES tab so you can see what products are currently on sale or are being discontinued. If you have any questions about their products, you can contact them at
If you are interested in reading more reviews about these products or some other BeeYouTiful products that have been reviewed by the Homeschool Crew, simply click the following link and read away:
http://schoolhousereviewcrew.com/786465/
.
DISCLAIMER: I received these products free of charge so that I might review them and provide an honest review.