Homeschool Legacy
, a company founded by a homeschool veteran, has put together quite a few unit studies on topics such as birds, trees, horses, weather, early settlers, and much, much more. These are once-a-week unit studies that try to cover all school subjects at least once in the four weeks these unit studies last and which are centered on Christ in the way they are presented. In case you are unfamiliar with unit studies, they are studies focused primarily on one main topic which is worked throughout all subjects. For instance, a horse unit study will most likely discuss the anatomy of horses in science, famous horses throughout history for history (obviously), songs about horses for music, etc.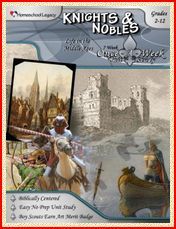 We had the opportunity to review a unit study called
Knights and Nobles
. It is geared towards students in grades 2-12, so it is meant to reach a wide variety of ages. Knights and Nobles covers medieval times which ran from the 400s to the 1500s. At the beginning of each of the four weeks, there is a list of books and videos that can be obtained from the library to enhance the learning in this unit study. It is helpful that such a long list is provided, as our library had very few of these books available. Because of the variety in the types of books listed, I made the assumption that virtually any book on castle building, for instance, would suffice the first week. This worked out well. There are some ideas for Netflix videos as well, but it is really hit or miss based on what Netflix is providing at the time you do this study; and you'd need to pay the subscription price for Netflix if you wanted to use this. A neat thing to do would be to list You Tube videos that can be viewed based on the subject. That way if a student doesn't have Netflix and their library doesn't have a certain movie, they can always view a video on their computer. This method can also be used for those who cannot visit the Biltmore Estate for the field trip in week 1 nor find a book on the Biltmore Estate in the library.
Now, even though the unit study is meant to be done once a week, there are a couple of daily activities listed each week. They include reading chosen books from each week's library list and another specific book that is listed for each week. I only purchased the first week's book, The Door in the Wall, as it was not available at my library. My kids have had a hard time understanding it because of the old style of the language used in conversation in the book.
Each week has a family devotional. Some weeks it is simply to be done just one day during the week. These could easily be made daily activities. I would think with every unit study subject that Homesschool Legacy has enough verses or concepts in the Bible could be read daily related to the subject being studied. Knights and Nobles talks about Jesus being the capstone and cornerstone in week one. Week 2 has the student reading through Esther during the week but why? A tie to what is being learned in the study would be beneficial. Week 3 talks about putting on the full armor of God and has a picture of a knight with his full armor with all of the pieces of armor labeled. I appreciated this because in all of my years of homeschooling I have never run across a picture like the one provided. Week 4 talks about Solomon and provides a few Scripture passages to read about him. This could definitely be taken farther and stretched out through the entire week.
After the weekly reading and the devotional activities, the Knights and Nobles unit study begins with having the kids create a notebook complete with a time line. A time line, especially for this time period, is a great idea, but there is NOTHING in the unit study that tells you what to put on the time line. The parent and/or student has to find information through the reading to put on it. There is a lot of reading required to sufficiently fill the time line. I understand that we want our children to learn how to research, but it might be helpful to at least list some events so they can research to find dates to put on the time line.
Trying to cover 12 centuries in one month, one day a week, will only get the tips of your toes wet. Thankfully so much of what we are studying this year in other subjects has to do with this time period, so this supplements the other learning that my kids are doing; but I'm not sure if I weren't studying this time period already that I'd want to take one day a week to go off course. I'd feel like I was wasting time not doing what I need to get done and/or feel like I wasn't really getting enough quality time to delve into the unit study topic.
There are some very good ideas in this unit study. My kids enjoyed designing their own coat of arms, and they enjoyed creating paragraphs for each other to read where it was all in capital letters with no spaces. They learned that there was actually a man who created lower case letters and spaces. They will probably not remember his name, but they will remember that the reason we can read more easily is because of the contribution of this man in medieval times. The family nights are a great addition to a unit study. It might be helpful to have more than one movie option the weeks that movies are suggested in case the one listed can't be found.
I would like to see a lot more ideas in this unit study. There are so many neat things that can be done with this topic. Math can include more than "Approximately how long did the Middle Ages last?" If this unit study is to be used with any student in grades 2-12, math problems for those in a higher grade should be included.
On the website for Knights and Nobles, it is said that no prep work is required. You will, however, need to purchase items for the catapult and other art projects. If you plan to make the items on the menu for the medieval feast in week 4, you will need to do a lot of prep work.
The
Knights and Nobles
unit study is $15.95. The
other unit studies
range in price from $15.95 to $19.95.
Homeschool Legacy
is offering free shipping on all orders of $50 or more. Otherwise, shipping is as follows: $3.00 on orders up to $17.99, $4.50 on orders of $18.00 to $29.99, and $6.00 on orders of $30.00 to $49.99. If you have questions about their products, you can contact them at:
Homeschool Legacy
Hendersonville, NC
828-685-7215
sharon@homeschoollegacy.com
I can appreciate the work that Homeschooling Legacy has done in putting these unit studies together. A lot of research goes into compiling something for others to use. They have created a wonderful beginning step for Knights and Nobles. I would love to see them go back and add more ideas for each of the subjects. I feel like only the surface has been scratched and I am left wanting more.
DISCLAIMER: I received this product free of charge in order to provide an honest review.
I