"The Curriculum for Creativity!" is a trademark slogan for
Artistic Pursuits
, an art curriculum I received in order to use and review. I welcomed the opportunity to review an art program with my children because I am always looking for ways to encourage their love for art. The grade 4-6 book we used was Book One which teaches the elements of art and composition including space, line and shape, texture, value, contrast, balance, overlap, depth, proportion, etc. There were 16 units in all combined in a spiral-bound, 88-page book.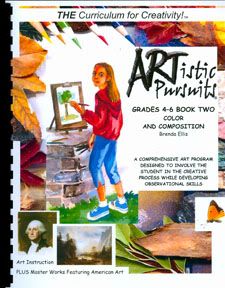 At the beginning of the book, it lists all the supplies that are needed and for which unit they are needed. There are some pages for "Getting Started" - What Parents Want to Know (book content and scheduling), What Students Want to Know (learning to observe and focus), The Elements of Art. In the back of the book, there is an evaluation sheet for obtaining a number and letter grade and a bibliography.
Each unit provides students with many opportunities for drawing. The unit begins with discussion of the topic such as texture or balance. The student is given "a creative exercise using real-world experience."
The next lesson for each unit is a painting by a famous artist. The student observes this painting according to the topic being discussed in the unit. Some biographical information of the artist is provided and a section about what times were like during the period of the artist or the period painted. Students are then given the assignment of drawing from observation.
Lesson 3 is the lesson on technique, trying to draw using the topic of the unit. For example, unit 6 is "Form Using Value." The technique discussed in lesson 3 is "How to See Shading and Shadow." For the exercise, the student is to look outdoors for an object that has form and draw one object showing form by shading. The technique lesson describes how shadows occur and how to draw them.
The fourth lesson, or final project, shows pictures drawn by other students that are like what they will be drawing themselves. Instructions are given for how to set up for the final project for each unit, including what they will need to complete it.
My oldest son is in 8th grade, but he completed the assignments along with my 4th and 6th graders. He enjoyed this curriculum, as art is his favorite subject. Any time he has the opportunity to create, he is happy. I am pretty sure my 6th grade son enjoyed it as well, and I think he learned some techniques from it that he did not know before. I can see a real improvement in his drawing ability as he gets older and learns new techniques.
My daughter claims she is a horrible artist and can't draw anything. I'm sure she didn't do her best during most assignments because of this fear of drawing poorly, but when she did apply herself she did a great job. I'd love to try one of Artistic Pursuits books geared towards younger children so she might gain some confidence.
They have preschool curriculum, curriculum for 1st, 2nd, and 3rd grade that includes an introduction to the visual arts, stories of artists and their art, and modern painting and sculpture. Each book includes projects for the student as well as learning about great artists and their work. There is the book I used and the companion, book two, that teaches about color and composition. There are two junior high books for the elements of art and composition and color and composition, and there are two senior high books (for grades 9-12) of elements and color and composition like the two previous grade levels. The books are written to the student, so no teacher preparation is required. The high school books are intended to be used independently by the student, and they include 64 lessons in each book. The pictures in the books are in color, and they are printed on thick paper so the book holds together very well despite being opened and closed many times and tossed from child to child during the homeschool year. Each book that has been created by Artistic Pursuits sells for $42.95. They provide a view inside each book. Simply go to the products page for the books and click on the book you'd like to view.
Artistic Pursuits also supplies art packs that you can buy that contain most of the supplies you'll need according to the grade level. The art pack for Book One for Grades 4-6 is $45.00.
Artistic Pursuits can be reached at Artistic Pursuits Inc., 2626 East 109th Avenue, Northglenn, Colorado, 80233 or by phone at 303-467-0504. If you have questions or need shipping information, their email is alltheanswers@artisticpursuits.com. Their fax number is 208-567-4269.
My 8th grader wanted to be sure I let you know that he loved this curriculum. I may have to purchase the high school curriculum for next year because he loved it so much. I know that he will learn techniques and have the opportunity to practice, and he will learn about the masters. This is an excellent art program for any stage. I especially love that it requires no preparation on my part except purchasing the tools required to draw.
DISCLAIMER: I received this product free of charge so that I would use it and provide an honest review.