It is fun to watch Punkin' Chunkin' on television. Imagine getting to build your very own trebuchet to toss large pumpkins thousands of feet away. Wouldn't that be fun? Of course, the machines those people build cost them sometimes hundreds of thousands of dollars. I've got a machine you can build for a couple of tens but then it won't chunk punkins either. You will, however, learn a great deal about the machine and the history behind it.

Pitsco Education
is dedicated to helping students succeed by offering a wide array of STEM-oriented classroom solutions (Science, Technology, Engineering, and Math). I received the trebuchet and catapult kit that included the
Siege Machines book, the Catapult kit, and the Trebuchet kit and weights. It retails for only $21.95. The kits are AMERICAN made in Kansas. There is a more expensive kit that includes all that is listed above plus two in-depth teacher/curriculum guides for another 20+ hours of teaching material for each kit. It retails for $64.95.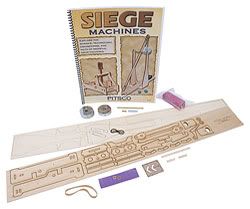 The Siege Machines book that was included is full of wonderful information about the trebuchet and catapult. It talks about their history, safety, and mechanics. The book provides experiments and charts for data. I really enjoyed going through this book with my kids. The directions for building each machine are separate from the book and are included with the kit. They were NOT easy to understand. Not that these kits are designed to be put together by a child, but there is certainly no way they ever could be. Even my husband and I had trouble understanding them. There is a lot of cutting of tubing and string or scoring of wood that is required with these kits. The instructions would often say to look for an example in the picture above, but it would actually be in the picture to the left. The pictures were dark and slightly fuzzy as well. If the directions were in a much better format, I would have nothing negative at all to say about these two kits. The instructions as they are, however, make putting these kits together a less than enjoyable experience.
Because these are the kits I received, I cannot speak to the quality of the other kits they provide or what the instructions are like, but they do offer other items such as airplanes, hot air balloons, kites, CO2 dragsters, many different architecture kits, math tools, physical science tools, and robotics. It is definitely worth the stop at the store,
http://shop.pitsco.com/store/
, to see what they have. The list is extensive.
Pitsco Education also has an Academy for student-directed learning or teacher-directed learning. As I browsed this tab on their website I was amazed by the quality of the experiments. It seems Pitsco is truly devoted to helping kids understand and succeed in the areas of science, technology, engineering, and math. Perhaps all they need to do is work on their kit instructions so the parent who is not a scientist or engineer can help their child put the kits together.
Pitsco can be reached at 800-835-0686. Their address is Pitsco, Inc.; PO Box 1708; Pittsburg, Kansas, 66762-1708. Their email is for purchase orders only.
DISCLAIMER: I received this product free of charge in order to provide an honest review.