Being that it is summer and we've reviewed some fairly intense products, I jumped at the chance to listen to a product for a change.
Wizzy Gizmo
is a company that has created some Bible resources for children. This is another reason I asked to be on the review. I don't feel like we have enough Bible study or reading (or listening) in our house, so this was an opportunity to learn more while we were out and about. We received
Audio Drama One: Who Created Everything?
This CD presents the story of Genesis from an extremely unique perspective in just 36 minutes. It retails for $14.99.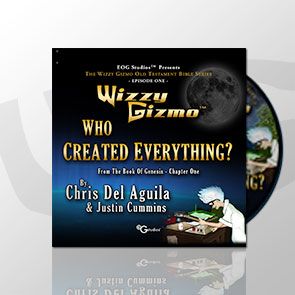 Professor Wizzy Gizmo starts up his Gizmovision machine, and the Bible comes to life. The kids who are listening to the Bible story gain a firsthand account of creation. The CD is intended for ages 4-12. My daughter, who is 12, felt like this was a little bit childish. Of course, she is a strong-willed almost-teen who has developed a taste for things are a bit more young adult in their age level. However, this audio drama is perfect for the younger crowd. It is engaging and entertaining. The way creation is portrayed in this CD with the sound and music and descriptive narration almost made me feel as if I could see it and hear it myself. I did feel as if there were some corny things in it, but, again, it is great for elementary and preschool children. Some vocabulary words are defined during the various segments, which I thought was ingenious. Not many children's stories do this. Silly songs are also interspersed throughout. One of our favorites was about mangoes. We sang this repeatedly after we listened to the CD, especially in the produce section of the grocery store.
Though this audio drama is geared towards ages 4-12, I also listened to it with my 16- and 14-year-old sons. They felt they were beyond the level of the story as well, but we ALL loved the soundtrack that was included at the end of the story. It was almost as if the music didn't fit the rest of the CD; it was that good—good enough that 16- and 14-year-old boys enjoyed it! We listened to the music more than once. I'm glad we are able to keep the CD because I'll be listening to this music when I'm tired of hearing the same songs played on the radio. Some songs had lyrics, and others were instrumental.
This is an excellent homeschool resource for Bible learning! It presents the Bible story in a memorable way, and it is accurate. They present the facts as they are written in Scripture. I hope that Wizzy Gizmo produces more stories like this. Though my children are older than the age range of this product, many children will benefit from this Christian education resource.
Some other products available from Wizzy Gizmo that the Crew reviewed and which you can read reviews about are:
Fast Track Bible Pack: New Testament
Book One: Who Created Everything?
Book Two: In His Image
Find Wizzy Gizmo on these social media outlets: