Over the past few years, my kids have received instruction from various co-op teachers who used Institute for Excellence in Writing. I have always enjoyed seeing how much they learn through these classes and have, without hesitation, recommended this program to others. Imagine how excited I was to receive the following two items in the mail. They were all mine.
Teaching Writing: Structure and Style DVD Seminar with Seminar Workbook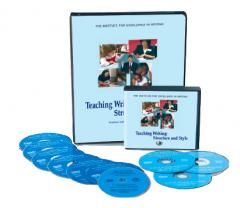 Student Writing Intensive Level B
The Student Writing Intensive came with a 3-ring binder with labeled dividers, 4 student DVDs and a DVD for the teacher that is an overview of the program, and a packet of instructions and handouts. As Paige watched Mr. Pudewa instruct in the DVDs, she followed along with her binder. I would give her the handout he was working with at the time which she would put into the binder along with a piece of notebook paper. As they worked through the keyword outline (finding 3 words per sentence that she could use to rewrite the sentence), she would write while she listened, often pausing so that she could create her own outline. When the DVD class wrote their stylistic techniques, Paige wrote them down, and she followed along while writing her banned words.
Included in the packet is a suggested course schedule, which we followed for the most part. If I felt Paige was able to understand how to do something and had practiced a good bit with it, I chose not to do the extra practice. Perhaps I should have had her do it all; it would only help her become a better writer. The course is very clear that the resources used in the program can be substituted with other resources of your choosing.
A full schedule is available, but each lesson is broken down even further with the disc times, chapter title, handouts needed, and reinforcement materials. I appreciated the way the lessons were written out. They tell you exactly when to stop the DVD since there are no chapter breaks in it. The outlines completed on the DVD are printed on the lesson pages. There are also composition checklists for the student to use to be sure s/he is including all required elements.
Once the student has had ample time to practice how to create keyword outlines by finding the 3 key words in each sentence of the article/paragraph provided and rewriting the article using their outline, they are taught how to dress up their own writing by using various words such as which and who, -ly words, strong verbs, etc. There is so much good information provided that I myself have incorporated some of these tips into my own writing.
The Student Writing Intensive Level B is geared toward students in 6-8 grades and sells for $109.00. Level A is suggested for grades 3-5 and is the same price. Level C is for grades 9-12.
The other product, Teaching Writing: Structure and Style, is purely for the teacher/parent. The product that I received, which includes 10 DVDs and the seminar workbook, sells for $169.00. Each component can be purchased separately ($145 for the DVDs or $35 for the workbook). They can also be purchased in combination with any level of the Student Writing Intensive for $299.
Just like the Student Writing Intensive, TWSS comes with a 3-ring binder, labeled dividers, and all of the worksheets to follow along with Mr. Pudewa in the DVDs. There are 6 DVDs which teach on the 9 units (10 hours of viewing time), a tips and tricks DVD, and 3 workshop DVDs at the different grade levels. The units are:
1. Note Making and Outlines
2. Summarizing from Notes
3. Summarizing Narrative Stories
4. Summarizing References
6. Library Research Reports
In both products' DVDs, I have come to truly appreciate Andrew Pudewa's humility, knowledge, and humor. Paige didn't really like his jokes very much, but I did and often found myself laughing as I listened to him. I walked past him at the FPEA Convention. I called Paige right away to tell her, but she wasn't as excited as I thought she'd be. Kids will be kids, I suppose.
Mr. Pudewa truly loves his job and wants to help kids become better writers. With the step-by-step training I've received through these videos, I, too, can help my kids to become better writers. I have information that will help me teach them through all of the different styles, and I also have learned how to grade the writing with checksheets provided at the end of each unit. He encourages us teachers to focus on the task at hand, in this case, writing, and not correcting, say, handwriting at the same time. We want the kids to be able to focus on writing and not end up disliking it because there was so much criticism in other areas at the same time.
Goals, recommended materials, the teaching procedure, and adjustment recommendations for each grade level are provided in each unit (when applicable).
A lot of samples written by other children are included. Another thing I appreciate is that the essay unit shows what footnotes and bibliographies should look like.
The end of the workbook says, "This workbook contains a lot of information. Naturally, it is easy to feel overwhelmed. Relax. Go back and review the beginning ideas..." I concur. There is a lot of information, almost too much to grasp with one run through. I am thankful I have my own copy and can go back to it again and again.