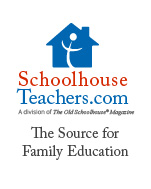 May I make a shameless plug?
Three weeks ago I started writing for SchoolhouseTeachers.com. I have wanted to be a writer for 20 years, and I am now living the dream. I am very grateful to Bonnie and Julie for giving me this amazing opportunity. My job is to write pieces for "Everyday Easels" and "This Day in History," which are both under the "Dailies" tab. Everyday Easels takes a piece of art and, for two weeks, breaks it down between all of the subjects: History, Bible, Math, Science, Language Arts, etc. This Day in History takes an event that happened on the same day at some point in history and provides a few paragraphs of information about the event, a short fiction piece relating to it, a living book list, hands-on activities, and discussion questions.
Since I have taught co-op classes for years and often create my own curriculum, this position is perfect for me. I enjoy doing the research and sharing the information that I have learned. Some things I've been able to research in the past few weeks are Philippines Independence Day, the inventor of the salad bar idea, Igor Stravinsky, New Zealand Annexing the Cook Islands, and more.
SchoolhouseTeachers.com has many activities and online classes for all ages and grades. Pre-K and elementary grades have literature kits, Figures in History, guitar, geography, lapbooking, Spanish, writing, and so on. Some middle/high school classes are economics, film making, French, chemistry, logic, sewing, social justice, etc. This is an incredible list! There are so many interesting lessons put together by well-known names in the homeschooling community.
Under the "Family" tab, there are reading lists, college choice guidance, guitar, voice, special needs, and nature choices. There are many "Dailies" topics such as grammar, math, and writing; spelling, continent exploration, astronomy, games, and Shakespeare. There is a site tour which you can view and hear testimonials.
There are benefits to members, besides all of the wonderful lessons. The Schoolhouse Library is free with a one-year membership. There are almost 200 audio and e-book resources. There are member-only discounts from participating companies. Digital back issues of The Old Schoolhouse magazine are free, as well as homeschool planners. Schoolhouse EXPO recordings are free. Another amazing value is an complete online math course (Algebra, Pre-Algebra, or "Pre-Pre-Algebra") for free; this is a $99.99 value. This video course teaches students "WHY math works, not just HOW to do problems." There is a limit of one per family.
Try
SchoolhouseTeachers.com for t
he first month for just $3. After the first month, it is $12.95 per month, or yearly memberships are available for $139. Only one membership is needed per family to access all lessons and activities. HSLDA members can receive a coupon code for a discount on a membership.