Created by Dave and Pat Holt, See the Light brings
Scripture and biblical principles
to kids of all ages along with
master art instruction using a variety of media and techniques. One of the products that is available is a 9-DVD collection of Art Projects. Each project teaches the history and style of a different artist. The set sells for $99.99. The DVDs are also available separately for $14.99. Each is geared towards children 10 and older. The project we were able to review was
Paper Jungle.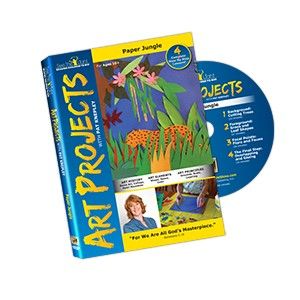 Paper Jungle teaches the history and style of Henri Rousseau. After each art lesson, master artist Pat Knepley picks up her Bible and reads a portion of Scripture and gives a well-thought out lesson. It is evident that she has a heart for teaching the kids both about art and the Lord.
The presentation on the video is 1-1/2 hours, but it is divided into 4 different lessons:
1. Background: Cutting Trees
2. Foreground: Grass and Leaf Shapes
3. Focal Points: Flora and Fauna
4. The Final Step: Overlapping and Gluing
We completed the DVD in about a week and a half, allowing as much time as needed to finish each portion of the project. Students are encouraged to do a lot of cutting and add a lot of color to their pictures. Paige is a minimalist (to put it politely). She was happy with having fewer elements in her picture, but it still turned out well. She is very critical of her artistic ability, but she was able to draw and cut out a tiger that was her best ever, much better than I could draw. She took the initiative to cut the stripes herself and add them to her tiger.
I think Paige enjoyed working on this project. She was able to pause the DVD whenever she wanted to see exactly what she was supposed to draw or cut. I greatly appreciated the Scripture lessons that were shared. The video quality and sound were very good, and the set (where the video was filmed) was simple and distraction free.
There are such interesting looking projects in the other DVDs in the Art Projects line. (Click here to view them.) They are:
Tiffany Window in the style of Louis Comfort Tiffany
Repeated Sweets in the style of Wayne Thiebaud
Pointillism Fruit in the style of Georges Seurat
Poppy Collage in the style of Georgia O'Keeffe
Dreams of Joseph in the style of Marc Chagall
Horsing Around in the style of Edgar Degas
Peaceful Seas in the style of Winslow Homer
Sunflowers in the style of Vincent Van Gogh
There is another option for those who are interested in obtaining all of the DVDs but don't have $99.99 all at one time - the Art Projects DVD-of-the-Month club. For $12.50 a month, one DVD will be sent to you. Each month, one of the nine DVDs will be mailed out until you have received all nine.
See the Light also has Art Class DVDs, online classes, a cartooning DVD, and Bible story art lessons on DVD. Some of these other programs are suitable for children as young as 5 years old.