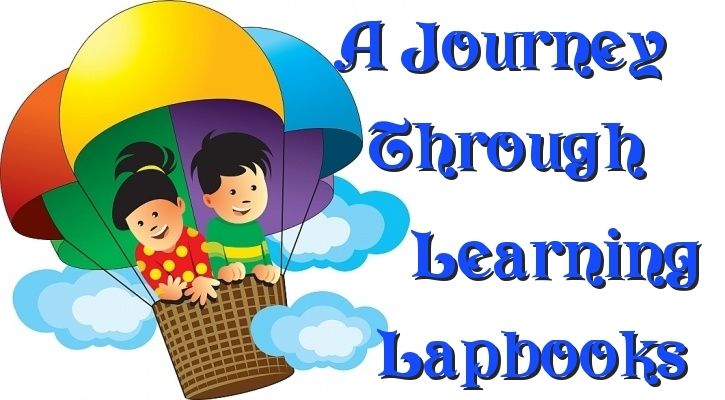 A Journey Through Learning is a company that was formed by two best friends who were looking for quality hands-on curriculum for the six children they were raising between them. Since they didn't like the choices that were available to them at the time, they decided to create their own. This company 's main approach is lapbook learning. They say it is like scrapbooking with an educational twist. They have also put together unit studies on various topics and what they call Binder-Builders which are lapbooks using binders and card stock instead of folders (a very interesting idea).
We have used lapbooks at various times during our homeschooling. They lend themselves more, I think, to elementary-age children rather than older children as there is a lot of cutting out and coloring. There is a great variety of learning lapbooks with study guides and unit studies that have been created by
A Journey Through Learning
.
There are some for early learning (ages 3-5) and some for early elementary (grades 1-4). There are some that are for grades 2-7 and some that are created for various grade ranges and go along with a particular curriculum (e.g. TruthQuest History, VeggieTales, Apologia).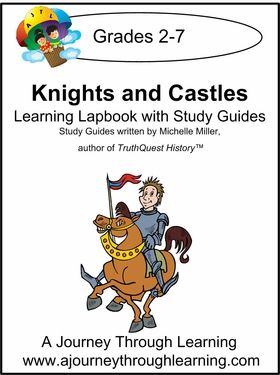 Since we became part of the review late in the review period, we have only gotten part way through one of the lapbook/study guides - Knights and Castles. At first glance, this looked like it would be well below my daughter's ability even though it said it was for grades 2-7 (she is in 5th grade). I was pleasantly surprised, however. There is a great deal of information contained in these study guides. I am learning quite a bit myself. There is not too much work for the student, so it doesn't become overwhelming. There is cutting and some drawing. There are times when they are supposed to write down some information they have learned. They then glue these items into their 3-folder lapbook that is created from manila, or colored, folders. The 3-folder lapbooks are able to hold a lot of information about the subject being learned.
We have been learning about knights through the first half of this lapbook/study guide. The information goes in depth into what the knight and even his horse wears into battle. It talks about the roles of knights, squires, and pages. Other topics are heraldry, castles, lifestyle, house, and Christianity. There are definite references to God throughout the books but not so much that a person who didn't want to read about God would feel bombarded by it. A discussion of the Middle Ages, however, certainly does lend itself to talking about Christianity and the role it played at the time.
The Knights and Castles lapbook with study guide can be downloaded for $13.00, sent as a CD for $14.00, or printed for $21.00.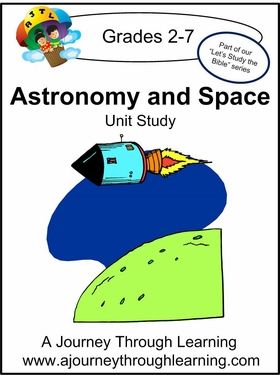 The Astronomy and Space unit study covers Genesis 1, the solar system, each of the planets, the moon, constellations, meteors, rockets, asteroids, comets, etc. The student has copy work to practice handwriting, questions to answer throughout, some drawing, recipes, crafts, recommended reading with a book report that follows, and vocabulary. The age range seems appropriate for this book as there are some activities that seem suited to a younger crowd, but I could see older kids enjoying "craft time." There is some information that is probably beyond the ability of a younger elementary student to understand, but the parent can decide how to present it. Having this information in the unit study would, I think, help to keep the older student engaged.
The Astronomy and Space unit study can be downloaded for $5.00, sent to you in the form of a CD for $14.00, printed for $21.00, or assembled for $30.00.
There are so many wonderful resources on this site. You have to check it out. They have $1.00 Express lapbooks which use just one folder on such things as the Olmec Civilization, the orchestra, the American Revolution, weather, and the Great Depression. There are way too many to list here, so take a look at what they have to offer. They are for any ages.
They list ideas they sell that can be used the corresponding month. So, for example, they sell a St. Patrick's Day lapbook/study guide that can be used during the month of March.
There are supplements to the Classical Conversations curriculum.
There are lapbooks to use with the Apologia series of science books.
There is a lapbook of the month which is only $5.00.
As far as unit studies go, there are some for history, science, and holidays/seasons. There are overviews of the 17th, 18th, 19th, and 20th centuries. Historical landmarks, American government and the election process, and American Indians are some history studies. The desert, the body, and amphibians are the other unit studies that are available for science.
Notebooking pages are available for a variety of topics. Pre-folded folders and templates can be purchased as well. There are also a few freebies on their site.
So long as my youngest is willing to do lapbooks, this will be a go-to company for me. When lapbooks are not appealing anymore, I will still remember that they have unit studies that are put together very well and can make my life a bit easier since all of the information is right there.
Click to read more reviews from the Schoolhouse Review Crew