Founded in 1996, Adventus is a leader in interactive music learning. Their product, MusIQ HomeSchool, is an award-winning piano and music curriculum that enables children to learn how to play at home at their own pace without the added cost of a piano teacher. There are seven years' worth of lesson plans for beginner to intermediate pianists. Besides piano instruction, there are activity sheets, quizzes, games, and assessments.
The Early Curriculum is geared towards children ages 4-10 and is broken down into a three-year program. Each year looks at different topics related to pitch & notation and rhythm. There are 25 lessons in year one and 35 lessons in both years 2 and 3. The "teach, practice, apply" method is used in these beginning years. Students are taught to read music, play with both hands, compose, and improvise.
The Multi-level Curriculum is geared towards people ages 10-adult. There are four years in the multi-level curriculum. It uses a program called, Piano Suite, which allows the student to learn songs from many types of musical styles such as rock, classical, and jazz; learn music theory and music history; and compose, print, and play their own music. Ear Training Coach is also a part of this multi-level curriculum and helps the student develop their musical ear.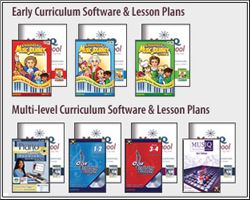 There are several things to consider when deciding which package to purchase. First, you need to determine the level of your child and/or yourself, beginner or intermediate. Next, since a MIDI keyboard is required, you need to decide if you are going to purchase this through Adventus or buy one on your own. Third, do you want to subscribe monthly for $10.95 and have access online to all products or buy the CD-ROM.
If you choose to forego the monthly subscription for the CD-ROM, the choices for the early curriculum are as follows:
Years 1-3 bundle pack which includes Children's Music Journey 1-3, beginner level 1 lesson plans, and an M-Audio KeyRig 49 MIDI piano keyboard is $309.95. You save $60 buying it as a bundle.
The year 1 Quick Start bundle includes Children's Music Journey 1, beginner level 1 lesson plans, and the keyboard is $199.95.
Each year sold separately without the MIDI keyboard is only $89.95 and includes the Children's Music Journey and the lesson plans for the year you are buying.
The lesson plans only, which you would need for years 2 and 3 if you purchase the bundle pack are $29.95.
For $489.95, a complete MusIQ HomeSchool Bundle can be purchased. It includes everything in the bundle pack plus Piano Suite Premier, Ear Training Coach 1 & 2 and 3 & 4, and level 1 lesson plans.
The Quick Start Bundle includes Piano Suite Premier which is used every year in this curriculum, level 1 lesson plans, and the 49-key MIDI keyboard for $219.95.
Year 1 includes Piano Suite Premier and level 1 lesson plans for $109.95. It assumes the user already has the keyboard required.
Year 2 includes Ear Training Coach 1 & 2 and level 2 lesson plans for $59.95.
Year 3 includes Ear Training Coach 3 & 4 and level 3 lesson plans for $59.95.
Year 4 includes MusIQ Challenger Game and level 4 lesson plans for $69.95.
The keyboard, sold separately, and several other accessories such as a cable that will transform older MIDI keyboards that aren't USB compatible are available on the Keyboards and Accessories page.
I used to have an 88-key MIDI piano keyboard. I really wish I still had it after looking at the information about this program. I always loved playing but was never really great. I think this program could put me at a level that I would want to reach.