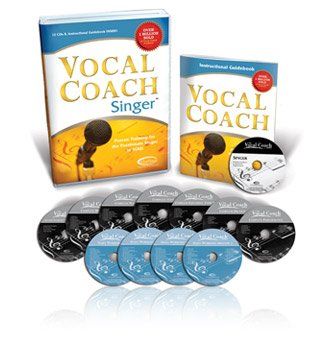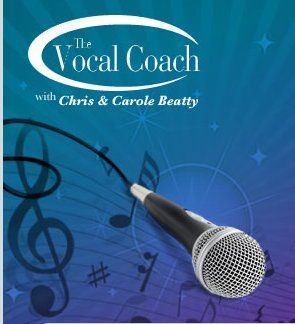 The Vocal Coach with Chris & Carole Beatty has a product called Vocal Coach Singer. My kids and I love to sing, and I know I don't sing well. I recorded myself once in college because I thought I'd sing a solo at church. I listened to it and have been self-conscious about my singing ever since. I thought I'd finally have an opportunity to learn how to hit the notes I was just missing all these years.
This product sells for $99.99 as MP3s and $119.99 as CDs. The MP3s come as zip files. It is geared for junior high through adults. They also sell a product called Teaching Kids to Sing that has a target age of 5 through 6th grade which sells for $44.99. Since the majority of my family is junior high and older, with the exception of my daughter who is in 5th grade, we received Vocal Coach Singer as downloadable files for the purpose of the review. The Vocal Coach website details what is included in the set:
7 Training CDS:
Getting Started

Complete Breathing

Complete Warm-Up

Complete Tone

Complete Expanding Your Range

Complete Diction

Complete Performance
Daily Workout High Voice 1 & 2

Daily Workout Medium/Low Voice 1 & 2
Plus these great educational tools:
Guidebook - Full-size instructional guidebook to ensure success

Printable lead sheets - each exercise in our course, plus track lists

Personal Singer's Journal (Getting Started Journal & Workout Journal) to track your progress

Vocal Coach Song Evaluation - Evaluation form to enable you to make more intelligent song selections
Each of these CDs is loaded with practice songs and exercises to help improve not only your singing but your regular speech as well. Training in things like posture, breathing, and diction will help anybody who speaks or sings in public. Not being a singer, I don't know what is normal as far as training goes, so some of the exercises seemed a bit weird to me and my kids. They were often found standing straight up against a wall or lying on the floor. My boys didn't seem to mind, but my daughter doesn't do things that are on the odd side.
One of the exercises on the Complete Warm-Up CD has you singing the phrase, "Hum-Chew." As you "chew," you are supposed to literally chew; you are supposed to move your jaw like you are chewing while you are also trying to sing. I could not keep from laughing. It was hilarious to see and hear. I did notice, though, that it worked. It loosened up my jaw muscles and kept those muscles from tiring if I was singing for a long time, like when I was in the car going to pick up one of my kids from some activity.
One thing that was hard was being able to follow a simple tune without an instrument in my house that I could play for us. Since the sheet music is included for the activities, it would be very simple to play the notes and sing along without the CD (after having listened to it first). Since I didn't have that, I know I wasn't singing the same thing as the CD. My kids seemed to do much better at this than I did. Maybe they were meant to sing.
Chris and Carole Beatty provide a lot of great instruction. It is evident that they have a passion for singing. The CDs are of high quality and easy to understand. The number of exercises that have been given definitely provide enough practice for a long, long time. There was no way we could have gotten through all of them in time for this review. The Workout Med:Low Voice CD alone has 35 exercises.
It is recommended that those using this product practice at least 45-60 minutes a day. Most days we used this we were probably around 30 minutes or so. If there was one person in my family who was serious about singing, if they were in musicals or choirs, this product would benefit them greatly. When I first heard about this product, I didn't know what to expect. I wondered how voice lessons could be done in this format. I thought voice lessons meant you sang and the teacher told you to go lower or higher to hit the right note. This is not that at all! There is so much more to singing than I knew. I do want to hit the right notes when I sing, but I don't think I'm ready for an hour a day of the exercises included in this program.
Like I said previously, however, this is a good product even for those who are simply interested in speaking more clearly, using their voice appropriately, even if not using it for singing. So many people today mumble. Their diction is lazy. This program helps that. An explanation is provided as to why breathing right, posture, speaking clearly, etc., is important.
If you or your children are singers or public speakers, you may want to seriously consider this product. I believe it will benefit you/them greatly. If you have more than one child who would use this program, it is definitely worth the $99 (even $119.99) you would pay for it.
I'd encourage you to check out The Vocal Coach website. They have a blog and many free resources on their website.
You can contact The Vocal Coach at customerservice@rede-commerce.com or by phone at 615-280-0554 (9 a.m.-4 p.m. CST).