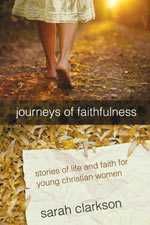 Apologia offers a book for mothers and daughters full of stories of Biblical characters and devotions that will encourage them to grow deeper in their faith, Journeys of Faithfulness.
This book is recommended for girls ages 12 and up, but I was able to use it with my daughter who is almost 11. She enjoys the historical fiction genre and especially loved the story of Esther in this book. She thinks Esther is just amazing!
Sarah Clarkson is the authoress of Journeys of Faithfulness. She has included devotionals in this book as well as stories of Martha and Mary, Esther, Ruth, and Mary (Jesus' mother). The whole book is very well written, although I liked the devotionals more than the stories of the Biblical characters. She adds a great deal of background story to each of the women's lives, so much so that I feel it is stretching a bit. Martha is made to seem quite angry and spiteful towards Mary who doesn't share her desire to prepare. Esther hits a point where she has lost all hope. Ruth's story begins with her life as a child living in a pagan society. I felt I needed to be sure my daughter knew that most of what was written was fiction. She said, "Of course it is, Mom." The stories are well written but, because they are about Biblical characters, I feel caution needs to be exercised when adding things to their lives and events that took place. So, I was a little bit uncomfortable while I was reading this book.
Each chapter ends with a short Bible study and thought-provoking questions. Three or four Bible passages are given that relate to the story told in the chapter with a number of questions that can be answered in the space provided. Being that my daughter is just 10, going on 11, some of the questions were a bit beyond her ability to answer.
This book sells for $13.00 through Apologia and is worth the read for older girls. So long as they know that much is added to the story to make it more detailed and that a lot of what is written is made up, then there shouldn't be a problem. The devotions that are included after the Biblical character story are, I think, more enjoyable (like I said earlier). They are true to life and not made up. They are Sarah's own testimony, what God has done in and through her.
Paige, my daughter, has already said that she wants to read the story of Mary, Jesus' mom, next in the book. (We've been skipping around.) She is enjoying it enough to keep reading, but I think the reflection through the questions and Scripture passages will come when she is a bit older.
If you are interested in reading other reviews about this book from the Homeschool Crew, simply go to http://schoolhousereviewcrew.com/786679/.
DISCLAIMER: I received this product free of charge so that I might use it and provide an honest, unbiased review.