A homeschool grad named Amy Puetz has a store full of history books and Bible studies she has written. Paige and I are going through Heroines of the Past Bible Study. This book is from:

The home of Golden Prairie Press is located at
http://amypuetz.com/
. Here you can read about Amy's journey and why she started writing books. The
store
has audio books, books for boys, books for girls, cookbooks, curriculum, costume books, and more. Some are written by Amy but not all of the items she sells.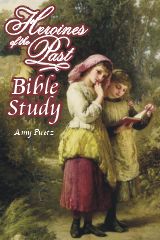 I liked the idea of having a Bible study that was geared more towards Paige instead of an all-family study, and that is what we got in
Heroines of the Past Bible Study
. We are currently using this as an e-book, so it doesn't have any of the pretty illustrations that are in the printed book; but it works for us. We started by reading this book together and going through the Scripture that is included in it. Paige has enjoyed the stories so much that she will often take my tablet and sit on the couch and read to herself. Once she gets through the story, we do the Bible study questions and read the Scripture together. She also writes her memory verse on an index card as is suggested in the book. She is learning about virtues displayed by real girls/women from the past. She finds the stories very exciting and is amazed by what these girls did, how courageous and brave they were, and how strong they were in their faith.
There are 13 weeks of stories about princesses, those who lived and died for Jesus, missionaries, wives, nurses, etc. There are women from all different backgrounds. This shows the reader that it doesn't matter where you live or what your circumstances are, you can always live for God and be bold in your faith. This book is written so well that it is engaging for the girl reading it.
One activity that is in this book is keeping a box of visual reminders. At the end of each week, the reader is encouraged to create a "box of visual reminders." This box contains an item that will remind them of the heroine they read about. We are not even halfway through the book yet, but I know that reading it will fill Paige's heart and mind with stories of women she will remember forever. It will also fill her heart with Scripture that she will always remember.
The book is 263 pages and is recommended for girls ages 8 and up. Right now, Golden Prairie Press is having a "Back to School Sale," and this book,
Heroines of the Past Bible Study
, which is regularly $27.00, is now only $21.60.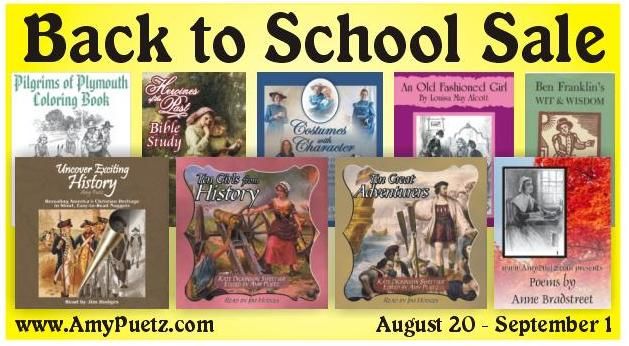 DISCLAIMER: I received this product free of charge in order to provide an honest review of it.