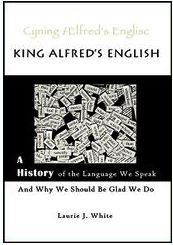 I LOVE THIS PRODUCT!!!!!!!!
I am always looking for something to increase my children's understanding of things we take for granted, and this seemed like the perfect product to review. I am sure most of us don't think much about the history of our English language, but Laurie J. White has and has put her findings into a book that is very readable and extremely interesting.
Laurie White's website is
http://www.theshorterword.com/. King Alfred's English is on the main page and also at
http://www.theshorterword.com/king-alfreds-english/. It is recommended for ages 12 through adult. I have thoroughly enjoyed reading this book as have my two boys, who are 12 and 14. It is full of interesting historical facts and explains why we use certain words and what the origin of those words is. My boys remember so much of what they read in this book. I have taken it a step further and used the worksheets provided free of charge on Laurie's website. They rarely have to go back to the book for the answers because they retain the information just from reading it. There is also a webpage on which Laurie provides movie suggestions and website suggestions that go along with each chapter.
On the webpage,
http://www.theshorterword.com/king-alfreds-englis
h/, Laurie provides links to various companies that offer this book. The lowest price for paperback is $14.89 through CBD. There is also a version available for Kindle for only $5.95 through Amazon. This is the way I am using it. The boys just grab my tablet and sit comfortably on the couch or on their beds and read away.
Laurie says, "The capstone of the book is the story of how we got the Bible in English and it's influence upon our language." Some of the topics in this book are fighting Druids, the Romans, evidence for Intelligent Design, the Brothers Grimm, Beowulf, the invasion of the Vikings, William the Conqueror, Middle English, John Wycliffe, Gutenberg, Greek invasion, Martin Luther, making of the English Bible, Tyndale, Geneva Bible, King James Bible, Shakespeare, grammar rules, and how words morph and mutate, to name just a few. As you can see, there are so many different topics that she touches on, but they flow perfectly throughout this book. It kept my interest as well as that of my boys. It has pictures, maps, and charts. You can't help but learn from this resource.
In paperback form, King Alfred's English is 170 pages. It is a CBD Top Ten Pick for Homeschooling and has been nominated for CSPA Book of the Year.
***** I am in a position to provide the first five people who are interested in this product a 50% discount off the list price, making it $8.47 (only good through September). Just comment on this page that you would like to purchase the product, and I will email you the link (which CANNOT be shared).
DISCLAIMER: I received this product free of charge in order to provide an honest review
.