I received an interesting activity book to review from the
AIMS Education Foundation
. It is the
Solve It! 3rd: Problem-Solving Strategies
book for 3rd grade. The bottom of the front cover states "Activities Integrating Math and Science." This company sells many products created to improve "the teaching and learning of mathematics and science through a meaningful integrated approach." This particular product sells for $24.95 on their website.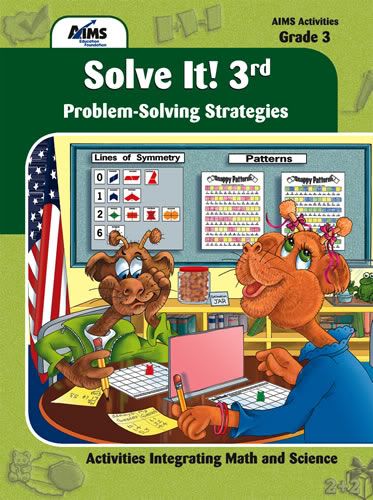 The back of the book lists 73 other publications related to math and science with additional publications for history and about mathematicians and some in Spanish.
My daughter is in fourth grade, but I was asked to use this book with her. We did not make it the whole way through the book, as there are 29 separate activities, and we were doing some other things for math along the way. What we were able to accomplish, though, has left me with some mixed thoughts.
I love the idea of tangible math. I find that my kids have always learned better when they can use manipulatives, and this book is chock-full of activities using them. Sometimes the manipulatives are as simple as copying a sheet in the book and cutting parts of it out. Sometimes extra supplies are required such as balances, colored card stock, counters, etc.
Each activity has an introductory page that explains the topic, asks a key question, states the learning goals, lists the guiding documents that helped to create each lesson, lists the topics that are covered in each lesson and the processes the student will think through. It lets the teacher know what materials are needed and some background information on the topic. It provides a procedure to follow and gives suggestions for extending the lesson and questions to ask following the lesson in order to evaluate your child's understanding.
Each time I opened the book, I was overwhelmed by ALL the information in it. I rarely read through everything on the introductory page that comes before EVERY lesson. I appreciate the purpose of it all, but I am not normally looking for all of the background information. If the instructions are clear then the purpose of the activity is usually clear as well. I usually look for instructions on the student page, but there were times when instructions weren't provided there or weren't clear. This was because I was required to read through them on the introductory page. Yet there were times when I read through them and they still weren't clear. The procedures oftentimes were written for use in a classroom setting, so some adjustments had to be made on my part.
I appreciate the effort the creators of this line of products put into developing them. They have tried to make learning fun with such silly titles as "Schmoos 'n' Goos" and "What's the Scoop?" The book is also filled with great illustrations. They have also tried to provide products for learning that, in my estimation, are above and beyond what most curricula do. Their idea of learning math is not rote facts in a book and black and white number problems but is done through the use of the child's senses. It is learned by weaving science and history into it.
This activity book could not stand as a curriculum by itself. I don't think it is intended to be. These are activities that extend the learning process. Because of this, I do not see myself using this type of math book. If there were more activities and perhaps less wording throughout the book, if it were laid out in such a way as to provide a flow from one topic to the next, I might choose this as a stand-alone curriculum. Perhaps if a consumable student workbook could be provided as well it would seem more appropriate for use in a homeschool setting as I do not like the idea of having to photocopy all the pages for every lesson. There is a CD in the back of the book which includes a PDF file for each page of the book but, again, it would necessitate that I print it out.
So, even though I do not particularly care for this one book, I am intrigued by the philosophy of the company enough and by the other products that I have seen that I am going to seriously consider purchasing some of the other items they sell.
AIMS Education Foundation can be reached at 888-733-2467 from 8-5 Monday through Friday PST. Their mailing address is
AIMS Education Foundation
PO Box 8120
Fresno, CA 93747-8120
DISCLAIMER: I received this product free of charge so that I might provide an honest evaluation of it after use in my home.